September 25, 2023 8:31 pm
Leave your thoughts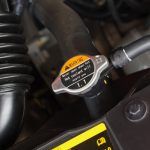 The cooling system in your vehicle plays a vital role in maintaining engine temperature and preventing overheating. It consists of several components, including the radiator, thermostat, water pump, hoses, and coolant. Taking proactive steps to prevent damage to your cooling system can save you from expensive repairs and ensure optimal performance. In this blog post, we will discuss some key measures you can take to prevent damage to your cooling system.
1. Regular Maintenance and Inspection
Regular maintenance and inspection are crucial for the health of your cooling system. Schedule routine service appointments with a trusted mechanic who can perform a thorough checkup and address any potential issues. They will inspect the radiator for leaks, check coolant levels and quality, examine hoses for cracks or signs of wear, and ensure the thermostat and water pump are functioning correctly.
2. Monitor Coolant Levels
Proper coolant levels are essential for the cooling system to work efficiently. Make it a habit to regularly check your vehicle's coolant level by inspecting the coolant reservoir. If the coolant level is low, top it up with the manufacturer-recommended coolant. Be careful not to open the radiator cap when the engine is hot, as the coolant can splash and cause burns. If you notice that your coolant level consistently drops, it may indicate a leak that needs to be addressed promptly.
3. Check for Leaks
Perform periodic visual inspections of your cooling system to check for signs of leakage. Look for any coolant puddles underneath your vehicle, especially after it has been parked for a while. You can also inspect the radiator and hoses for any visible signs of dripping or moisture. If you detect a leak, it's essential to have it repaired as soon as possible, as any loss of coolant can lead to overheating and engine damage.
4. Flush and Replace Coolant Regularly
Coolant can become contaminated over time with rust, dirt, and other impurities, which can hinder its effectiveness and potentially damage the cooling system. It is recommended to flush and replace the coolant according to your vehicle manufacturer's recommended intervals. Flushing the cooling system removes built-up debris and ensures the new coolant can work efficiently in regulating engine temperature.
5. Maintain Proper Engine Temperature
Avoid subjecting your engine to excessive heat, as it can put enormous strain on the cooling system and lead to damage. Be mindful of driving in high-temperature conditions and regularly monitor your vehicle's temperature gauge. If you notice the gauge consistently rising above the normal range, it could indicate cooling system issues and should be inspected by a professional.
6. Care for Radiator and Hoses
The radiator and hoses play a crucial role in the cooling system's functionality. Regularly inspect the radiator for any blockages or debris accumulation, as it can hinder airflow and reduce cooling efficiency. Clean the radiator gently with a soft brush or compressed air to remove any dirt or debris. Additionally, inspect the hoses for cracks, leaks, or signs of wear, and replace them immediately if necessary.
7. Avoid Overloading and Overworking the Cooling System
Overloading your vehicle can put additional stress on the cooling system, as it needs to work harder to maintain engine temperature. Avoid carrying excessively heavy loads or towing heavy trailers on a regular basis, as this can lead to overheating. If you do need to tow, ensure your vehicle is equipped with a proper towing package and consider installing an auxiliary transmission cooler to help maintain lower engine temperatures.
Conclusion
Your vehicle's cooling system is a vital component that requires regular care and attention. By following these preventive measures such as regular maintenance, monitoring coolant levels, checking for leaks, flushing and replacing coolant, maintaining proper engine temperature, caring for the radiator and hoses, and avoiding overloading the system, you can significantly reduce the risk of damage to your cooling system. By taking these steps, you ensure that your engine stays cool, efficient, and protected, saving you from costly repairs and ensuring a smooth and reliable driving experience.
Got Questions? Let Us Help!
Gabriel's Automotive & Towing is a full-service auto mechanic and repair shop in Chino, CA. For over 20 years, our auto repair shop has provided expert automotive technicians that are highly trained in both foreign and domestic vehicles. It is always our goal to satisfy you and enable you to get the most out of your vehicle. A well-maintained vehicle will give you years of enjoyment. We specialize in BMW vehicles and offer work on a variety of parts, including brakes, carburetors, charging systems, air conditioning systems, electrical components, and emissions. We also perform diesel tune-ups and repairs. For drivers throughout Chino and Chino Hills, CA, give us a call or stop by the shop today!
Categorised in: Cooling System
This post was written by admin