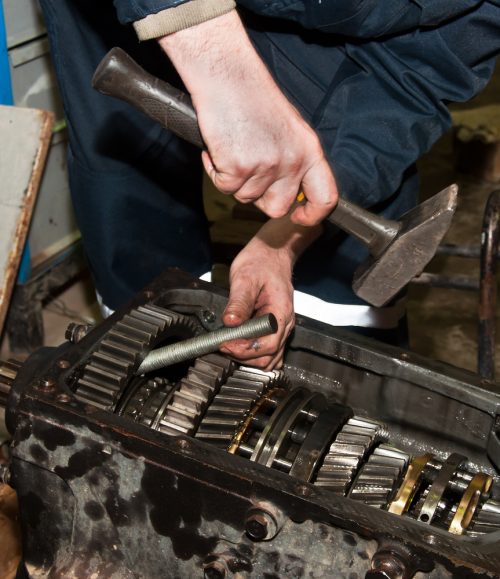 A healthy transmission is crucial to the functionality and safety of your vehicle. If you notice your gears aren't shifting as easily as they used to, don't ignore the problem! Ignoring the problem could make the damage more severe and end up costing you more. Come by our auto repair shop today and let our transmission experts asses and diagnose the issue. Don't let the cost of a repair scare you away. Gabriel's Automotive & Towing offers the best prices in town, so stop by today and you might be pleasantly surprised. We've been solving transmission problems in Chino, Chino Hills, Pomona, Ontario, Montclair, and Eastvale for over 25 years.
Signs of Transmission Problems
Failing or delaying when shifting: Any delay when shifting isn't normal, and obviously, if your car is failing to shift into gear, it's time to have your transmission fixed.
Thumping or lagging when shifting: If you're hearing a thumping noise when you shift, then there's definitely an internal problem with your car's transmission that needs to be repaired.
The engine speeds up when you apply the gas but the car doesn't: If your car's engine speeds up but your care doesn't more or jerks forward, you definitely want to bring your car in for a check. Trying the DIY tips available online could end up making the problem worse if you don't know what you're doing.
Red, pink, or brown puddles under your car: New transmission fluid is a lightish red or pink color and a darker red or brownish color when it ages. Any fluid red or brown fluid pools under your vehicle are a sure sign of trouble.
The need to add transmission fluid: You should not have to add transmission fluid to your vehicle between regular maintenance. A good mechanic always checks your fluid levels when you come in for any type of repairs. If they don't, it's time for a new mechanic.
Unusual noises such as whining sounds when you step on the accelerator: There are many reasons why your car might be making whining sounds when you accelerate, including a transmission problem. The best thing to do is to call us or stop by so we can find and fix what's causing them.
A grinding noise: If you're hearing a grinding noise coming from your transmission and you didn't forget to engage the clutch, then it's time to bring your car in for a transmission check.
A banging noise when you come to a stop: A banging or knocking when you come to a complete stop could be a sign of transmission trouble or another problem. Don't wait. Get it checked now before it becomes a more costly repair later.
Your car fails to move when cold but improves once it is warmed up: If your car won't move until it's "warmed up" a bit, then you definitely have a problem. Take advantage of our complimentary towing and have us take a look at the transmission so we can make the necessary repairs.
The engine overheats: If your transmission is having problems, it can actually cause your vehicle's engine to overheat too. It's not always the radiator. It's best to have us take a look to determine what's causing your car to overheat.
---
No matter what type of issue you're having with your car's transmission, the ASE-certified mechanics here at Gabriel's Automotive & Towing can fix it. Plus just like any of our other services, transmission repairs are eligible for free towing services, complimentary shuttle service, and complimentary loaner vehicle. We also offer interest-free financing so you can have peace of mind when unexpected transmission problems arise.
Contact us today to schedule your next transmission service appointment.